Our Control Panel makes setting up your website very easy! The Control Panel itself is a user-friendly graphical interface that allows quick and easy access to all the features available to your particular account plan. The features inside the Control Panel automate processes that users must do manually with many other hosting services. Please note that your cpanel may look different due to upgrades and style format.

Brief Review (see Index for more detail)
Point your domain to the following DNS:

Primary Servers: NS1.HOSTINGCPANEL.COM 72.51.38.168
Secondary Servers: NS2.HOSTINGCPANEL.COM 72.51.45.179
Your IP address is: 72.51.38.168


Before your DNS propogates to our servers (24-48 hours for .com/.net/.org and few hours for .us), you can upload all your files to our servers through ftp (not FrontPage). You may access your account at: 216.180.224.18 (use your given un and pw)
To access your site before DNS settles, go to: http://72.51.38.168/~username/ (fill username with yours)

To access your control panel, click here: http://72.51.35.168:2082

To access your web bases email (once your DNS settles):
http://www.yourname.com:2095/horde/index.php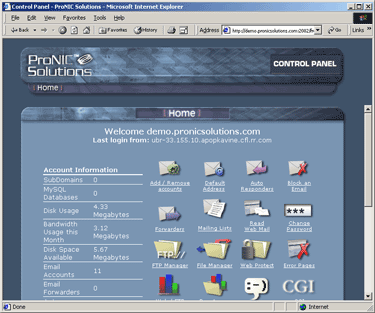 Control Panel Main Screen



Note to FrontPage Users: Some of the options in your Control Panel will not work with FrontPage extensions installed. It is a known fact throughout the industry that Microsoft has established itself as a "world in itself" and therefore the majority of their software is incompatible with the other world. We provide FP Extensions as a courtesy to those that know how to use it and prefer it over the more common methods of designing websites If you choose to utilize FrontPage, please keep in mind that some of the advanced features of our Control Panel will not work for you.


The main control panel screen is divided into two areas. The left side will show general account information, the right side of the Control Panel will show you the following options: (These may vary depending on your particular hosting plan)




Add/Remove Accounts:
Click this option to add and/or remove email accounts e.g. you@ you.com.




Default Address:
The default address is the email address where all unrouted email messages will be sent. This is also called a "Catch All Email Address." For Example, if your master username is "john" your default address will be john@yourdomain.com. Now, lets assume that someone sends an email to mary@yourdomain.com and you have not created an email account for mary, that particular message will arrive at your default address of john@yourdomain.com.




Auto Responders:
Auto Responders are messages that are automatically sent to each person who sends you an email. This feature is useful when you know you will not be reading or responding to incoming email massages for a period of time.




Block an Email:
You can use this option to "filter" or block unwanted emails. Addresses entered here will not be able to send email to your domain.



Forwarders:
You can use this option to forward your email messages to other email accounts.




Mailing Lists:
Allows you to add, remove and edit Mailing Lists.




Read Web Mail:
Allows you to read your email messages online.




Change Password:
Click this option to change the password for your Control Panel and FTP service.




FTP Manager:
From here you can setup FTP users, modify anonymous FTP options, view who is online and boot anyone from an FTP session. (Not available with some accounts)




File Manager:
By clicking this option you can view, create and edit files and directories in your account as well as change permissions and upload files from your hard drive.




Web Protect:
This option does not work with FrontPage. This option will have to be configured with FrontPage itself. Password protecting directories has never been easier. This option allows you to select the directory you wish to password protect from a drop down box and then enter usernames and passwords of those you want to allow access to that part of your site.




Error Pages:
This option will assist you in customizing how your error pages look. It includes: 400, 401, 403, 404 and 500 error pages.



Web/FTP Stats:
This option will assist you in monitoring visitors to and from your site. This area features three different views of your traffic: Analog, which basically provides you with a quick summary, Webalizer, which provides you with more detailed information, and last 300 visitors with detailed information on each. This area also contains links to monitor your bandwidth usage and to access your error log, which will assist you in troubleshooting and debugging your scripts.




Raw Access Logs:
This option will let you download a raw access log.




Chat Room:
This option will allow you to setup a web based chat on your site.




CGI Center:
This option allows you to enable the pre-installed cgi scripts for your site.




Shopping Cart:
This feature allows you to setup a fully functional shopping cart on your site. (Not available with some accounts)




SQL Database:
MySQL is a database engine that you can use with your website. There are two separate features in the Control Panel. One allows you to create your databases and assign users while the other feature allows you to edit the databases. (Not available with some accounts)




Sub Domains:
This option will assist you setting up sub domains inside your account plan. Sub domains are subdomain.yourdomain.com. The sub domains that are setup through your control panel draw their resources from the parent plan and do not come with a unique IP address. (Not available with some accounts)



Network Tools:
This option provides you with DNS lookup capabilities and traceroute.




Backup:
Allows you compress and backup your directories and files.



Mime Types:
MIME = Multipurpose Internet Mail Extensions. This option allows you to add Mime types to your account. Refer to Advanced Options for more information regarding this feature.
(Not available with some accounts)




Cron Jobs:
Use this option to setup automated processes on your account. (Not available with some accounts)




Apache Handlers:
Allows you to add user defined handlers for the Apache Web Server. (Not available with some accounts)




SSH Telnet:
Allows you to connect to the server shell and issue commands just as with any other Telnet client. (Not available with some accounts)




Search Engine Submit:
This option will assist you in submitting your URL to some of the most popular search engines in one click.